Safeguard your valuable data with our online backup services.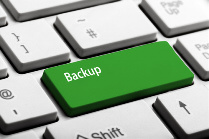 Remote Backup provides data protection for disaster recovery and business continuity.

Widomaker Remote Backup
Keep reading for more information and prices...


What is it? Widomaker's Remote Backup is a professional data backup service. Using it you can safely store backup copies of your important files and folders so that if something happened to the originals, you would be able to easiely restore them through the Widomaker backup client software.
Why

should you backup?

Chances are you have a lot of important files on your computers like financial documents, email, photos, music, and more.
Unfortunately, computers are vulnerable to hard drive crashes, virus attacks, ransomware, theft, and other data disasters, which can erase everything in an instant.
Use our Remote Backup service to safeguard your valuable data.
Contact us for more information.
Highlighted
Features
Client-side Deduplication. This saves storage space, bandwidth, and time.


Compressed and Encrypted

. During backup, transit, and rest. The only time it is unencrypted is during a restore.

Custom Schedules

. You can schedule backups to be hourly, daily, weekly, etc.


E-mail Reports

. Optional e-mail reports may be sent after backups and restores, along with a summary of the results.

Two-factor Authentication.

2FA is available and recommended for each backup account.

Local Sales and Support

. Support a local, Hampton Roads, Tidewater, and Coastal Virginia business by choosing Widomaker.
What

should you backup?
Your data backup strategy should fit your unique situation, including the type of data you store, your industry, and your security requirements. Learn How to Develop a Data Backup Strategy.

Ask about our freshly brewed promotional prices for new customers. For a limited time, new Remote Backup customers can receive a 30% discount, on the monthly recurring charge (MRC), for the first 6 months, if they mention this offer when signing up!

Two varietals of remote storage options are available. The first uses local Hampton Roads storage, which is located and managed in our local area. Hampton Roads storage may provide for faster data restoration options in the event of a disaster recovery scenario, if physical storage media can be exchanged. Contact our office for details. The second uses North American based cloud storage, which is the most budget friendly option.

Local Storage (Hampton Roads) Backup Plans
Monthly Prices for

Hampton Roads Storage

*

Plan

Light

Medium




Full City




Continental




Max. Storage

100 GB

200 GB
500 GB

1000 GB (1 TB)

Storage Charge

$10
$18

$40



$70

Device Charge

+$4 per device or computer being backed up
Setup Fee

[1]

$15
$15
$15
$15
Get a Quote
*Data is stored in a local Hampton Roads facility.
[1] Discounts do not apply to setup fees.
Cloud Storage (North American Region) Backup Plans
Monthly Prices for

North American Cloud Storage

**

Plan

Espresso




Double Espresso




Cappuccino




Latte




Max. Storage

1000 GB (1 TB)




2000 GB (2 TB)

3000 GB (3 TB)

4000 GB (4 TB)

Storage Charge

$12
$22

$33



$44

Device Charge

+$4 per device or computer being backed up
Setup Fee

[1]

$25
$25
$25
$25
Get a Quote
**Data is stored in the North American region of a high performance cloud storage provider.
[1] Discounts do not apply to setup fees.

Additional Add-ons Monthly

Disk Image Backup (Windows Only)
$4.00 per device
Microsoft Office 365
$2.00 per user
Microsoft Hyper-V
$2.00 per host
Synology
$2.00 per device
Microsoft SQL Server
$2.00 per device
MongoDB
$2.00 per device
Any of the above optional add-ons, if enabled by the customer, will be billed accordingly.

Questions? Let's have a discussion about the best way to start backing up your data. Contact us with questions.
The information on this page is current as of Q3 2022. Contact us for the latest information and prices.