Check for DSL Availability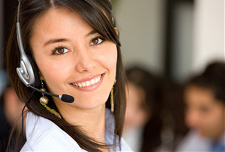 To check for available DSL (broadband Internet) packages and prices for your location,
fill out the form to the left
using the below guidelines. Frequently Asked Questions (FAQ) and answers are
further below
...
If you have an active Verizon landline (copper based POTS line) telephone number

at your location, provide that telephone number and the full address. If you have a dedicated FAX line at your location you may wish to use that number because it can sometimes simplify installation.


If you DO NOT have an active Verizon landline telephone number at your location, DSL may still be available to you!

Put a check mark in the box labeled "Check Address Only" then provide the full address of your location. When you submit the form, any available Standalone (Dry Loop) DSL packages will be displayed. Please review the additional information below in the "Standalone (Dry Loop) DSL FAQ", including possible extra charges and restrictions...


If you have trouble or cannot locate an available package for your location

, please call our office to have a representative

manually check

your location for DSL and other Internet services...
Are DSL customers able to use their telephone or FAX machine while accessing the Internet over DSL?
Yes. DSL allows customers to use their existing phone line for voice or FAX communications while they use the DSL service for Internet access or data communication services.
Will my telephone work even if my computer or modem is unplugged or disabled?
Yes. DSL modems have been designed so that your normal telephone service will operate even if the computer or DSL modem is unplugged or otherwise disabled.
Can I connect more than one computer to my DSL service / Can I use a router?
Yes! While routers are not supported by Widomaker technical support, you may use them to connect multiple computers to your Widomaker connection.
Can I host a server?
Yes. You may host a server on your connection as long as it is within our acceptable use policy. Spamming is not allowed and strictly enforced. If you plan on hosting a server we recommend a static IP address package with ample upload speed for your server applications.
Does Widomaker filter any ports?
Port 25 is blocked for all customers to prevent against spam generated from our network by default.
Will my current phone features work with DSL?
DSL won't affect Caller ID, voice mail, call waiting or other advanced calling features; however, Distinctive Ring may not work with DSL in some areas.
Can I still use AOL or MSN?
Yes, America Online and MSN offer a special "Bring Your Own Access" plan that connects using TCP/IP for customers who already have high-speed Internet access (ISDN, DSL, etc.). This allows you to use your DSL service to access AOL & MSN content.
Does DSL require installing an additional phone line?
No. DSL technology utilizes higher frequency spectrums for data transmissions that are not being used by voice communications. This allows simultaneous analog voice or fax and DSL data transmission over the same telephone line. You still use your phone as you do now.
What equipment do I need for DSL access?
A DSL end-user must be equipped with a DSL modem and a network ready computer. The DSL modem must be compatible with our DSL equipment and can be ordered from Widomaker. In addition, the end-user's computer must meet recommended minimum system requirements.
Can I use any modem with my Widomaker DSL service?
No. For ATM circuits you must have an ADSL modem that supports rfc1483 bridge mode. SDSL modems are not compatible. Frame relay circuits will only work with Fujitsu DSL modems. Regular 56k dial-up modems will not work as a DSL modem. If you want to use a modem from another source, please check with us first to determine compatibility.
What are the steps of self-installation?
Installation instructions are provided with your Home Installation kit. In brief:
Step 1 - Install DSL Filters
DSL filters, also known as micro-filters, keep the DSL and voice signals seperate. Installing them is as easy as plugging in your phone.
Step 2 - Install DSL Modem
If you don't already have a DSL modem, you may order one as part of your service, including detailed installation instructions. Plug the modem directly into the wall jack, using the phone cord provided.
Step 3 - Configure Your Computer
Most computers are configured in 5 easy steps.
Can DSL work with our multi-line phone setup?
It is possible, but it will usually require professional installation involving additional equipment at your location. We HIGHLY recommend that you use a direct line not associated with your phone system such as a FAX line.
Am I charged for the time my DSL modem or computer is online?
No. Widomaker DSL Internet access is unlimited. You will not have to worry about how long your modem or computer is in use or turned on.
Will I see additional charges on my phone bill?

No. Widomaker has no hidden fees. We charge you for the DSL circuit, the ISP service, and federal taxes in a single low monthly bill that is from us not the telephone company.
What are the payment options for DSL service?
- Automatic Credit Card Billing - Charges automatically deducted from your Credit/Debit card.
- Existing customers and business customers may contact our office to inquire about other options that may be available.
What is a Static IP address?
An IP (Internet Protocol) address identifies a computer or other device on the Internet for the purposes of sending or receiving data. It is much like a telephone number. Having a static IP enables you to be able to host a server or setup VPN's or remotely administer your computer. Basically you always know where on the internet your machine is because it isn't moving around.
How is DSL different from other Internet connections?
Dial-up (Analog) Modems
Analog modems were designed to work on regular telephone lines and usually operate at speeds ranging from 28.8K to 56K. The main difference between analog and DSL modems is that an analog modem works over a small range of voice frequencies.
Cable Modems
Some Internet connections are available through cable television lines that have been upgraded to carry data in two directions. However, you share bandwidth and this access with your neighborhood, so there is a possibility of slowdowns during peak-use periods just because your neighbors log on.
DSL
DSL technology provides a dedicated service over your existing phone lines. This means that you don't have to share your local access connection with other users.
How does DSL work?
Widomaker DSL is based on Asymmetric Digital Subscriber Line (ADSL), a super-fast modem technology that can provide data transmission at significantly higher speeds than your standard 56K modem. DSL transforms standard twisted-pair copper telephone wires into a high-speed digital pipe. Since this wiring is already in place in most homes and offices, millions of users can switch to DSL service without the need to run new wires to your location. DSL is designed to take advantage of the portion of the bandwidth not used for voice calls. DSL technology splits your phone line into three information channels. One carries data at high speeds from the Internet to your home computer. Another channel transports data at moderate speeds from your home computer to the Internet. The third channel handles regular phone calls and faxes. You'll be able to surf the Internet while making phone calls or sending a fax. Your regular phone line will continue to work in the event that a power failure affects your computer.
How fast is DSL?
Widomaker offers several packages with download speeds ranging from 384kbps - 7.1mbps. Widomaker DSL customers enjoy the ability to download files and surf the Internet at lightning speeds. Throughput speeds experienced will be lower than connection speeds based on factors including the distance between your home and the telephone company central office; the condition of your line; traffic on the network and the Internet; and the performance of servers hosting Web sites you visit, among other factors.
How does DSL support both voice and data on the same line?
Normal telephone usage occupies a very small portion of the total range of frequencies available over phone lines. DSL uses a range of frequencies that begin above where normal telephone usage stops. Micro-filters prevent the different ranges of signals from causing interference with one another.
Where can I get more information?
Please call our office at 757-253-7621 for details regarding DSL service...
Standalone (Dry Loop) DSL FAQ
What is Dry Loop or Standalone DSL?
Dry Loop or Standalone DSL enables you to receive DSL service without dialtone on a phone line. At this time we are only able to offer Dry or Standalone DSL in certain areas within the Verizon territory. Dry or Standalone DSL is provided for customers who do not have active Verizon telephone service at their location on which to install (normal) DSL. If you have active Verizon telephone service at your location and have no plans to disconnect it, then we recommend installing (normal) DSL on an existing telephone line. Contact our office at 757-253-7621 with any questions or to ask for suggestions.
How long does it take to activate Standalone DSL?
It could take 2-4 weeks to activate Standalone DSL at your location.
What is the telephone company responsible for when connecting Standalone DSL?
The telephone company is only responsible for tagging the line at your phone box (NID) for the Standalone service. A Verizon technician will come out to your location during the 2-4 weeks it takes to set up your service and do this. You may need to hire a 3rd party technician to have additional wiring done from your phone box to the phone jack inside your home or office. Widomaker is not responsible for any charges associated with hiring a 3rd party technician.
Can Widomaker help me find a technician to have the additional wiring done from the phone box to the phone jack inside the home or office?
Depending on your location, Widomaker may be able to arrange for a technician to visit your location or may be able to put you in touch with a 3rd party technician. Currently those locations in Virginia include, Newport News, Hampton, Norfolk, Virginia Beach, Gloucester, and Williamsburg. Call our office at 757-253-7621 for details.
Can I change my regular DSL to Standalone DSL?
Call our office to see what options are available. The official procedure, provided by the telephone company, to switch from regular to Standalone DSL, has never worked successfully for any of our customers.

If you have DSL service with Widomaker and are in a Verizon territory, you are able to convert your DSL to Standalone DSL. In order to do this you must call the Verizon business office and tell them that you need to add a permanent remark (also called a "Records Only" change order) on your account stating "Voice Disconnect Authorization received from [your name and date] (eg. John Smith 01/01/2012)". You should NOT tell the representative you want to disconnect the voice or phone service. The representative should provide you with a "Change Order Number" which will start with a "C" followed by 7 numbers. You should also get the name and Verizon ID of the representative with which you speak. Once the remark is made, and you provide us with the "Change Order Number," and the name (and Verizon ID) of the representative, we will be able to place our order to convert the DSL. After the conversion order is placed it will immediately bring down your dial tone.
Where can I get more information?
Please call our office at 757-253-7621 for details regarding Standalone (Dry Loop) DSL service...